Back to Basics: Fundamentals
Back to Basics: Fundamentals.
Type: BOOKS. Detail: Francuski, B. Product Code: 9781888690422.
Category: CLEARANCE. Publisher: Russell.
Price: AUD
$45.00
Now $19.95 (56% discount!!)
Buy
or
Remove
The game of chess has challenged and delighted the world for centuries. In "Back to Basics: Fundamentals," the essential building blocks of the royal game are presented simply and in an easytounderstand format. With the expert guidance of chess master Branislav Francuski, you will learn how the chess pieces move and capture; the underlying principles of the game; how to spot and carry out simple checkmates; and understand the basic tactical ideas that are so important to playing and winning. "In this book, I try to emphasize and clarify the chess fundamentals that young players need to know, as a strong grasp of the basics will eventually lead to the strategic thinking that is necessary for advanced play." From the Author's Preface Fundamental concepts, tactical themes and other significant points of the game are underscored by over 800 diagrams and positions. Solutions and clear explanations are supplemented by important principles, highlighted in blue. Whether used alone or with an instructor, Back to Basic: Fundamentals will put you on the road to good chess! Softback, 192 pages. Dimensions 175 x 251 x 13mm 340g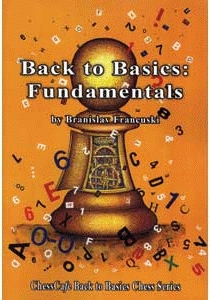 ---
For more information from the manufacturer please visit www.chesscafe.com.
---