Playing Cards
Playing Cards.
Type: EQUIPMENT. Detail: GIFTS. Product Code: SBCARD.
Price: AUD
$9.95
Now $4.95 (50% discount!!)
Buy
or
Remove
A set of 52 playing cards that also have the name of a different chess opening on each card combined with a diagram. A popular gift and an encouragement award. This Standard Deck of 52 Playing cards (plus 2 Jokers) features the most popular Chess openings and are a great memorization tool. Each of the cards feature the ECO Code of the Opening, the name of the Opening in 3 different languages, the board position and the move list of that opening. Examples of Openings featured include French Defense, Colle System, Chigorin Defense, Old Indian Defense, Vienna Game etc.
Details (7Kb jpg file)
Sample (81Kb jpg file)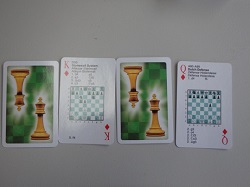 ---