Chess Set- Improving player
Chess Set- Improving player.
Type: EQUIPMENT. Detail: CHESS SET. Product Code: 18993003.
Retail Price: AUD $49.95
(includes GST)
Buy
or
Remove
The perfect present or a school starter kit.A school/ tournament chess set with cream and black pieces, vinyl black and white board, drawstring bag to keep the pieces tidy, 192 page chess book, scorebook for writing the moves of the game, a pen and pencil that have a chess motif on the side. A saving of over $15.Here are more details. The chess set, plastic black and cream chess pieces WITH 2 EXTRA QUEENS. The weight of the chess set is 520g. The height of the tallest piece the king is 95mm. Solid plastic pieces that are robust and the whole set weighs 526 grams. The school or tournament sized board measures 51 cm by 51 cm (20 inches by 20 inches) with 5.7cm squares (2.1/4 inch) and is made of vinyl plastic designed to withstand wear and tear. Algebraic notation surrounds the entire board and is clearly legible from all sides. Easy to clean with a damp cloth, this board can roll up and unroll easily for convenient storage.The plastic drawstring bag is suitable to contain the tournament chess set. The book Prepare to Attack, is published by Everyman, 192 pages by former Australian champion Gary Lane. Signed copies are available. The score book allows you to record 50 games. Also available in other colours light blue, light brown and yellow. You can write with your chess pen or pencil.
Sample (83Kb jpg file)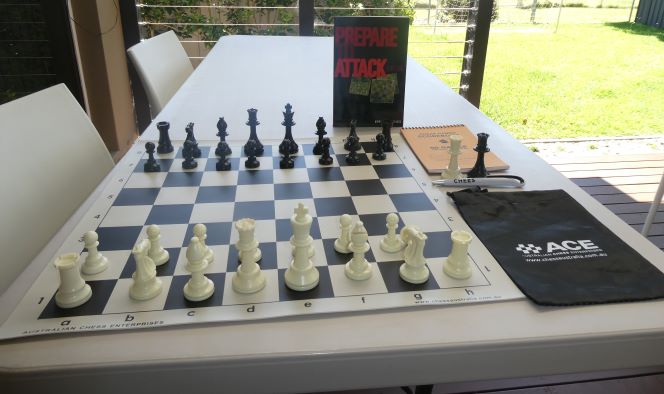 ---