Learn Chess the Right Way 1
Learn Chess the Right Way 1.
Type: BOOKS. Detail: Polgar,S. Product Code: 9781941270219.
Category: BEGINNERS. Publisher: .
Retail Price: AUD $24.95
(includes GST)
Buy
or
Remove
Learn Chess the Right Way is a five volume chess puzzle book series aimed at the novice, beginner and intermediate level player, using the unique methods of the award winning coach and former world champion Susan Polgar. It introduces the most important checkmate and material winning tactics, as well as defensive techniques to the new chess player. Each of the five volumes will consist of 500 puzzles. In Book 1, the focus is on one move checkmate exercises. In each of the first five chapters, a specific piece delivers checkmate (in Chapter 1: the queen, Chapter 2: the rook, and so on). In Chapters 6 to 8, checkmates which involve special tactics (such as pins, discovered attacks, etc.) are introduced. Chapter 9 has a mixed collection of puzzles, without any hint about which piece is to deliver checkmate. Chapter 10 builds on the previous 9 chapters, and introduces basic patterns of checkmate in two moves. With over 40 years of experience as a worldclass player and coach, international grandmaster Susan Polgar has developed the most effective way to help young players and beginners Learn Chess the Right Way. Softback, 160 pages. 185 x 257 x 10mm, 249g.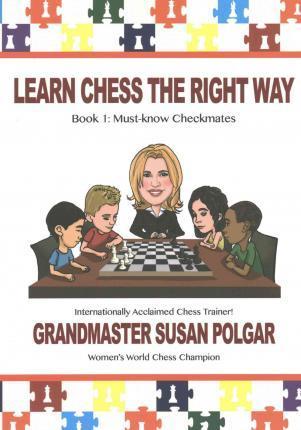 ---