Winning with the Ruy Lopez V2
Winning with the Ruy Lopez V2.
Type: SOFTWARE. Detail: 1 E4 OPENINGS. Product Code: CBFT-BORL2EDVD.
Price: AUD
$55.00
Now $29.95 (46% discount!!)
Buy
or
Remove
Really, among the open games the only opening with which White can really fight for an advantage in the long term is the Ruy Lopez. But in order to make this serious effort, he has buckle down and learn a whole series of subvariations. That is what the professionals do, including of course Viktor Bologan, who now reveals the secrets of his own grandmaster repertoire. On his second Ruy Lopez DVD Viktor Bologan shows how things continue after 3 a6 4.Ba4. Black has some possible deviations before we reach the main lines which are dealt with in Part 3. These include the solid Steinitz Defence and the Archangelsk Variation which has again been brought up to date. In the Open Ruy Lopez quite different types of positions are reached and White need to understand these too. And our author prefers to avoid the Marshall Attack so he suggests the AntiMarshall beginning with 8.h3. Video running time: 5 hours 20 min. System requirements: Disc drive, Windows 7 or higher.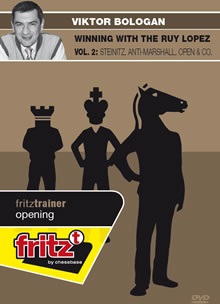 ---