Digital Clock/Timer: DGT 3000
Digital Clock/Timer: DGT 3000.
Type: EQUIPMENT. Detail: CLOCKS. Product Code: DGT3000.
Retail Price: AUD $129.95
(includes GST)
Buy
or
Remove
This is the top of the range from the Dutch producer of digital clocks and is the one used in World Championship matches. The DGT3000 connects to all DGT electronic chess boards and has many new and improved features; seconds are shown from the start; larger display with more information; 25 preset timing systems; 5 slots for customized settings; 1 year warranty! The DGT3000 is DGTs most advanced game timer yet. Batteries are included. Manual is included in 6 languages: English, French, Spanish, Dutch, German and Russian. Dimensions: 15.5 X 11.7 X 5.2 cm.
Details (17Kb jpg file)
Sample (19Kb jpg file)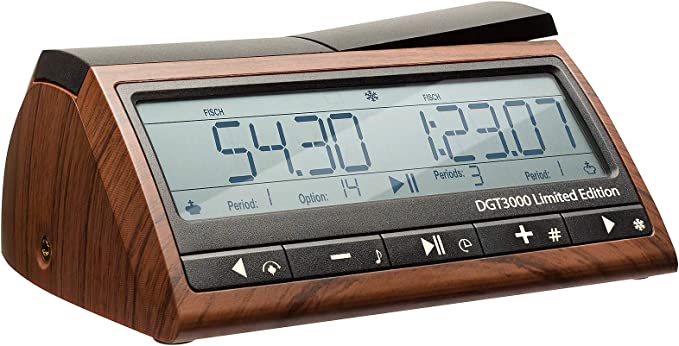 ---