Chess Genuis Pro Chess Computer
Chess Genuis Pro Chess Computer.
Type: EQUIPMENT. Detail: COMPUTER. Product Code: M812.
Retail Price: AUD $319.95
(includes GST)
Buy
or
Remove
In stock! We recommend adding a plug/powercharger to avoid cost on batteries which we sell for $25 and the code is M811. A top level, luxury computer that will probably beat you but it is possible to change the levels of play to have a chance of victory. The MILLENNIUM ChessGenius Pro allows you to make moves on a chessboard and the computer plays to a top level of 2200 elo. It runs on batteries or can be powered by a charger which is recommended, see product code M811. On the chessboard (20cm by 20cm) there are elegant chess pieces in white chrome (white pieces) and black chrome (black pieces), which have felt on the bottom of the pieces. Playing levels and playing difficulty: Average time per move can be changed if so desired. Countless levels especially for beginners. Shows suggested moves (best, second best, third best etc. moves from the respective position)Especially for improving players: Chess trainer: Warns about bad moves, offers to take them back and makes suggestions for improvement to help make better moves. Help function: Shows all permitted moves. Fully flexible opportunities to take back moves.Convenient menu system makes it easy to adjust system settings. Large backlit display: shows the entire chessboard, plus help text and menu system text. Chessboard size 20 x 20 cm playing area. Multilingual user interface. Different match modes: Player vs. computer, player vs. player etc. Improved energy saving mode with longer active times. Power port for AC adapter (power pack sold separately M811). Power supply: 3 x AA alkaline batteries but Power port available (power pack sold separately M811)Dimensions of presentation box: approx. 30 x 27.5 x 3 cm. Chessboard dimensions: 20 x 20 cm.
Details (25Kb jpg file)
Sample (102Kb jpg file)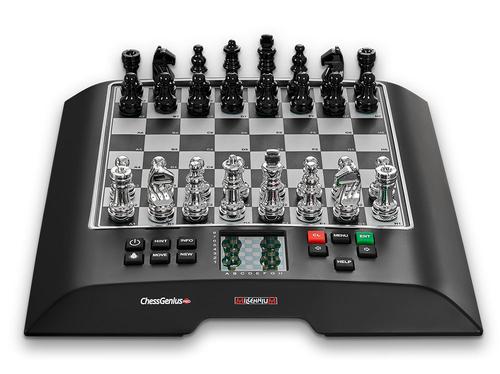 ---