Fat Fritz 2 Chess Program
Fat Fritz 2 Chess Program.
Type: SOFTWARE. Detail: CHESSBASE. Product Code: SPFF20DVD.
Retail Price: AUD $139.95
(includes GST)
Buy
or
Remove
Perfect for improving players and even correspondence competitors who want to win. A DVD that allows you to play or train with an elite player. It also allows you to lower the standard for a chance to win. All you need is a disc drive on your computer to win!Fat Fritz 2.0 is based on the famous AlphaZero algorithms. This new version is a must for players of all skill levels, whether beginner or professional, who wont accept any compromises. Its understanding is unparalleled, as it learned by literally studying billions of chess positions. Fat Fritz 2 comes with the latest version of the most advanced chess playing interface in the world, which provides coach functions, automatic game analysis, a database with 1 million games as well as a sixmonth subscription to ChessBase Premium Account. Feature list: Fat Fritz 2 engine with a massive new neural network: 64bit program interface. Includes current Fritz 17 program interface. A bonus ChessBase Premium Account (6 months) with access to training videos, Playchess, tactics training, and much much more! Please note that Fat Fritz 2 is an original neural network that is powered by a modified version of Stockfish. SYSTEM REQUIREMENTS: A disc drive and a modern computer is enough but here are the boring details. Minimum: PC Core i3 oder i5 / AMD FX or Ryzen 3, 2 GB RAM, Windows 7/8/8.1 64Bit, DirectX9, , graphics card with 256 MB RAM, DVDROM drive, Windows Media Player 11 and Internet access. Recommended: PC Core i7, i9 or AMD FX, Ryzen 7/9 and Windows 10 64Bit, 4 GB RAM, Windows 10, DirectX10, graphics card with 512 MB RAM or more, Windows Media Player 11, DVD ROM drive and Internet access.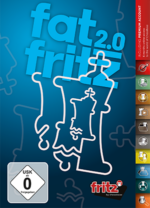 ---