Magnetic Chess/Checkers Large
Magnetic Chess/Checkers Large.
Type: EQUIPMENT. Detail: TRAVELLING. Product Code: TCS3.
Retail Price: AUD $29.95
(includes GST)
Buy
or
Remove
It has a snap closed plastic box with plastic hinges that opens up to a 345mm x 345mm board and 40mm black and white squares. The pieces stay put with magnetic bases that keep them firmly planted on the board no matter where you travel. The tallest piece is the King which is 68mm tall.
Sample (184Kb jpg file)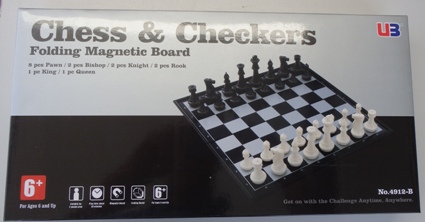 ---