Chess Medal
Chess Medal.
Type: EQUIPMENT. Detail: GIFTS. Product Code: ZCHESSMEDAL.
Retail Price: AUD $5.95
(includes GST)
Buy
or
Remove
These Chess Award Medals with Ribbons make any chess student feel like the club champion. Buy 10 receive 1 free.These fun prizes have a heavy feel and are made of metal. They come in gold, silver, or bronze (though not the real precious metals!) and each one has a 30" patriotic red white blue ribbon to hang the medal around the neck. Each medal is 2.25" in diameter at their widest point and has a space in the back where it can be easily engraved. Order a few of each color to award your students! Engravings can be arranged but at least 7 days advance noticed is required due to a grumpy engraver.
Sample (86Kb jpg file)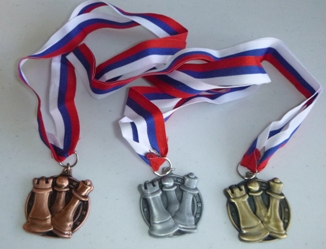 ---