Chess Medal (Spins)
Chess Medal (Spins).
Type: EQUIPMENT. Detail: GIFTS. Product Code: ZCHESSMEDAL2.
Retail Price: AUD $6.95
(includes GST)
Buy
or
Remove
Our Chess Spin Medal with Chess Ribbon make any chess student feel like the club champion. These fun prizes have a heavy feel and are made of metal. They feature a rotating center design (Black Piece on one side and White on the other), perfect for any presentation. These unique medals are available in Gold, Silver and Bronze (though not the real precious metals!) and each one has a 30" includes a free chess neck ribbon to hang the medal around the neck. Each medal is 2" in diameter at their widest point and has a space in the back where it can be easily engraved.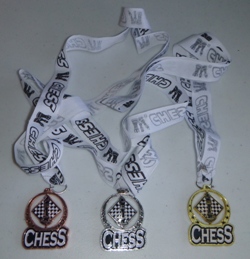 ---