Prepare to Attack
Prepare to Attack.
Type: BARGAINS. Detail: Lane, G. Product Code: 9781857446500.
Price: AUD
$32.95
Now $19.95 (39% discount!!)
Buy
or
Remove
Signed copies. Using an abundance of illustrative games and examples, former Australian champion Gary Lane answers the questions which constantly puzzle players of all levels. Where are my opponent's weaknesses? Do I have enough pieces in the attack? When should I strike? Do I need to sacrifice? Should I cash in or continue to attack? Read this book, discover the answers and attack with confidence! An essential guide to attacking chess. Introduces easy to learn techniques such as Focuses on planning and strategy. Softback 192 pages.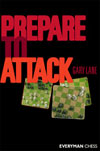 ---