Chess College 1: Strategy
Chess College 1: Strategy.
Type: BOOKS. Detail: Grivas. Product Code: 9781904600459.
Category: CLEARANCE. Publisher: Gambit.
Price: AUD
$39.95
Now $19.95 (50% discount!!)
Buy
or
Remove
Chess College is a new series of books to take intermediate players to new levels of chess understanding. New ideas are introduced and immediately illustrated by a number of entertaining and instructive examples, many drawn from the author's own practice. Volume 1: Strategy introduces covers a variety of topics, including: "Why do we lose?", Attack on the King, Two Bishops, Passed Pawn, Exchange Sacrifice, Positional Sacrifice, and Outpost.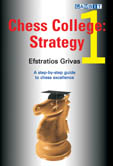 ---